Honeycommb vs Circle
Honeycommb is a powerful alternative to Circle with more focus on brand, brand assets, and a modern social network experience.
Thinking about moving over to Honeycommb from Circle (we've had many do this) or doing research to understand which solution is the best fit?
Here's an overview we put together to outline the differences between Honeycommb and Circle who are both community-focused platforms but with some big differences.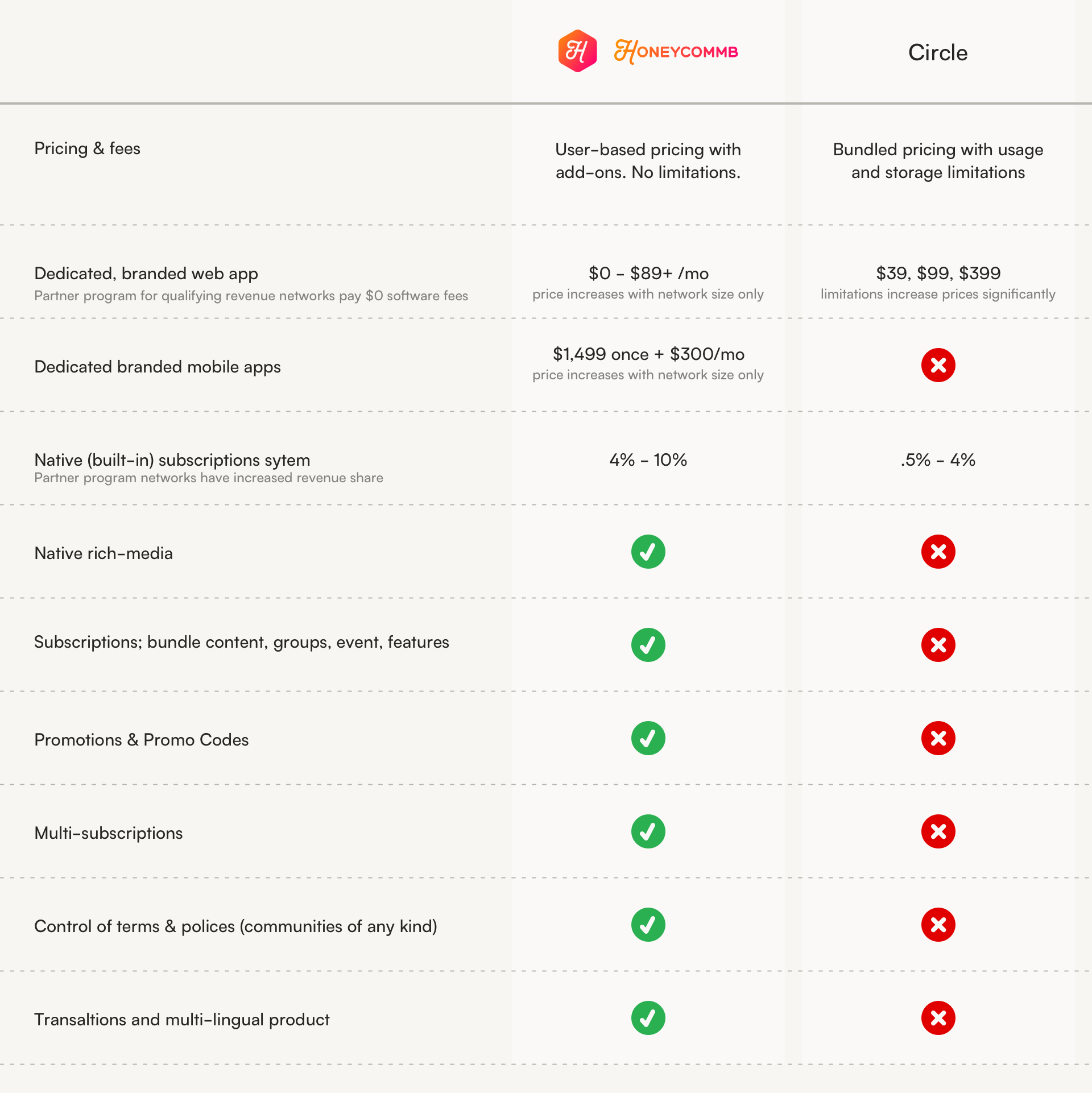 Modern Social Network Experience
Both Circle and Honeycommb are considered community platforms with the ability to grow and engage a community of any size. Both have primary features you would expect from such platforms: profiles, content creation, feeds, groups ("Spaces" on Circle), direct messaging, and more.
Where Circle feels and behaves much like an updated forum tool, Honeycommb feels and behaves like a modern social network with all the features you would expect from one. Some have noted that Circle's user experience is professional but feels much like the many other community and forum products in the market, bland. Honeycommb's modern interface and many brand customizations allow for the personality of the network's brand to shine through.
Dedicated, Branded Mobile Apps
Circle provides a brandable website where you can apply your own custom domain. They also provide the Circle branded iOS app (no Android app yet) that allows members of Circle communities to have a mobile app experience but hosted under the Circle brand.
With Honeycommb, networks can upgrade to dedicated, branded mobile apps at any time. Honeycommb's iOS and Android mobile apps are professional apps built in native languages that look and operate beautifully on Apple and Android phones. These mobile apps sit in Apple and Google Play app stores, visited by tens of millions daily, pumping up your SEO and your business as established with valuable assets.
All-in-one Platform
Circle promotes themselves as an all-in-one community platform, a hard claim to make without dedicated, branded mobile apps and the many integrations required to host things like rich media (videos), livestreaming, and courses that require additional tools and services.
With a full suite of dedicated network applications on web, iOS, and Android, Honeycommb is a true all-in-one solution for independent social networks and communities. Native (built-in) rich media (images, videos, gifs, and livestreaming), subscriptions, events, groups, direct messaging, and more make Honeycommb a clear winner as an all-in-one solution.
Customizations
Whereas some network customization capabilities are available on Circle, this is where Honeycommb excels with a large number of simple but impactful customizations that allow network owners to take control of the experience members have with their network. From major customizations like public or private community settings, turning on or off major functionality, and language customizations - to small brand-oriented touches like a custom like icon or emoji reaction set for livestreams. See the full list of customization options here.
Subscriptions
Even though both Circle and Honeycommb provide a native subscription solution, there are some significant feature differences between the two solutions. are more subtle. With both, members can self-manage their subscriptions; cancel, reinstate, upgrade and downgrade with proration. Both offer tiered subscription products. Circle lacks the ability to offer a free (freemium) tier. With Circle you can only offer access to the community or spaces within the community.
Honeycommb subscription products include two types of subscriptions; 1. Community subscriptions (tiered), 2. Group Subscriptions. Members can carry more than one subscription at a time (ex. A community subscription and multiple group subscriptions). Community subscription products can bundle many things, not just access to groups. Products can include access to premium groups, premium events, premium content, and premium features, giving network owners much more to work with when trying to earn revenue from subscriptions. Honeycommb's subscription solution also comes with a full-features promotions and promo codes feature where Circle's does not.
Create Your Network
If you want to organize and engage a group of people of any kind, Honeycommb is a fit. No code. No drag. No drop. Just name it, create it, and customize it with simple clicks in a sweet Control Center that gives you all the power to launch the independent social network you've always dreamed of.