Honeycommb vs Hivebrite
Honeycommb is a powerful alternative to Hivebrite with more focus on a modern social network experience and more powerful subscription offering.
Thinking about moving over to Honeycommb from Hivebrite or doing research to understand which solution is the best fit?
We created this overview to cover the few primary and the more nuanced differences between Honeycommb and Hivebrite who both share quite a number of capabilities.
Note: Because Hivebrite requires potential customers to go through a demo and requirements process to learn about the Hivebrite platform and understand pricing, this review may be a bit limited. For best information on the Hivebrite offering and pricing, it's best to contact Hivebrite.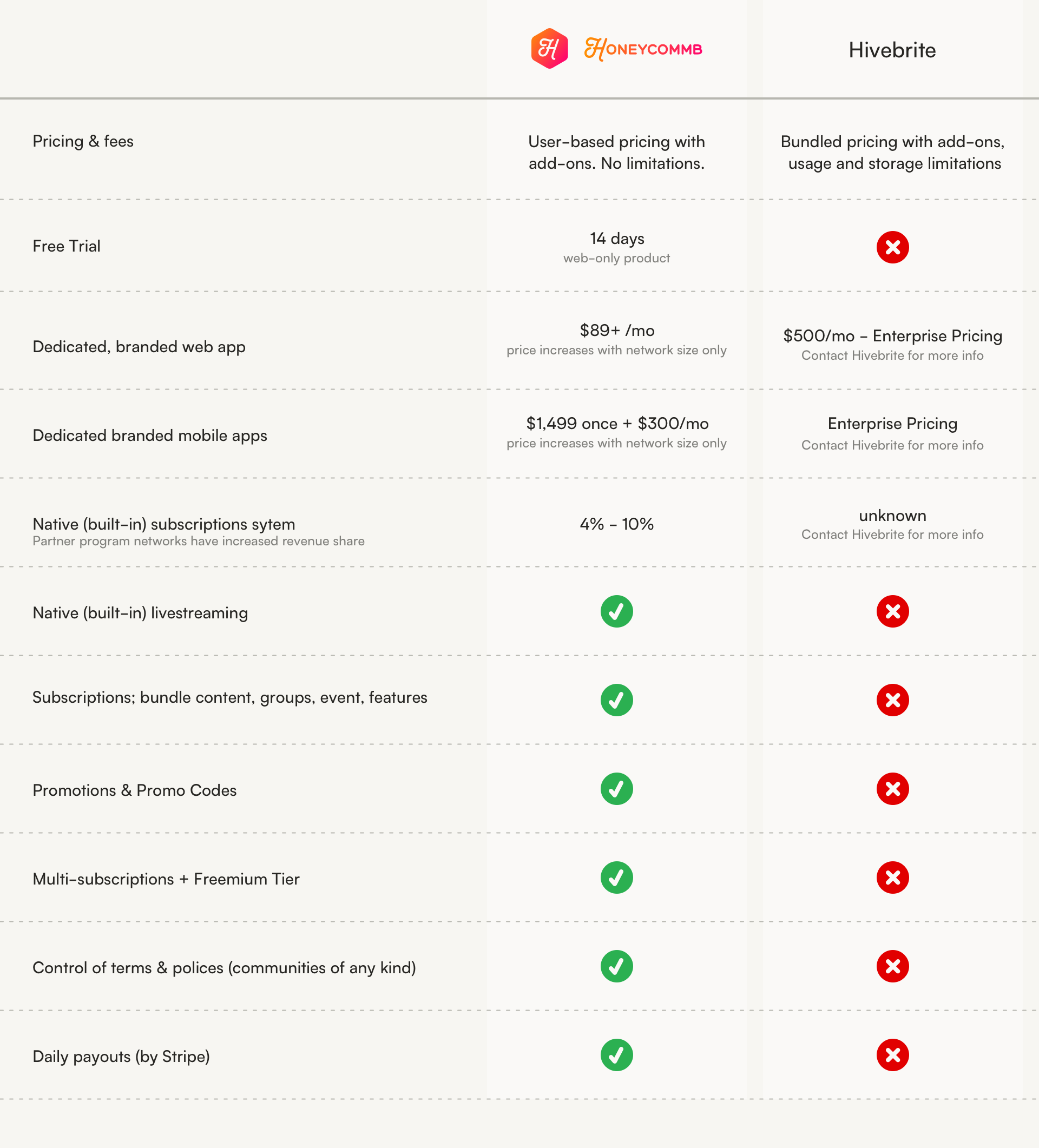 Dedicated, Branded, Professional Mobile Apps
Both Hivebrite and Honeycommb offer dedicated, branded mobile applications. Hivebrite's launch process is said to take up to a few months. Because Hivebrite sells mostly to an enterprise market, their web application is their primary application and reviews have stated poor experiences for their mobile applications.
With Honeycommb, network owners can start with a branded web application and upgrade to dedicated mobile apps at any time. Honeycommb's launch process can be very short (days). Success managers help guide you through the process and even create and install assets required by Apple and Google. Unique to Honeycommb, network owners can easily manage their mobile apps settings, like app name, descriptions, marketing url, categories, art and more right in their Honeycommb Control Center.
Modern Social Network Experience
Hivebrite and Honeycommb are both community-first platforms with many opportunities for social engagement. Hivebrite appeals to those looking for a more professional enterprise software experience / look and feel, like alumni networks, non-profits, and university groups. Because of this, Hivebrite is primarily a web-based tool that is more akin to an updated forum. Honeycommb appeals to those looking for a modern social network experience, including rich media and features like livestreaming. With feeds, rich-media posts, live chat, real-time direct messaging, and livestreaming, Honeycommb networks feel like a private Instagram or Twitter.
Customizations
Yes, network customization capabilities are available on Hivebrite but this is where Honeycommb excels with a large number of simple but impactful customizations that allow network owners to take control of the brand experience members have with their network. From major customizations like public or private community settings, turning on or off major functionality, and language customizations - to small brand-oriented touches like a custom like icon or emoji reaction set for livestreams. See the full list of customization options here.
Subscriptions
Both Hivebrite and Honeycommb provide a native subscription solution with some significant differences. It seems Hivebrite offers networks to run a single, tiered subscription offering. Please contact Hivebrite for more information on their subscription service.
Honeycommb's subscription system is an independent system that can easily be added and activated to any Honeycommb network. When added, network admins can quickly and easily connect their Stripe account, set up and activate their subscription offering, and create as many subscription products and product plans as they like, including a freemium (free) product tier. Products can include premium content, premium groups, premium events, and premium features. Honeycommb allows network owners to create two kinds of subscription product types; 1. Community Subscription, 2. Group Subscriptions. Unique to Honeycommb, members can carry more than one subscription at a time and, a pain-point on other platforms, network members can easily upgrade and downgrade between subscription products and plans, including plan proration, at any time. Honeycommb also has a payment recovery automation system to fix payment failures and collect members dues with more consistency.
Create Your Network
If you want to organize and engage a group of people of any kind, Honeycommb is a fit. No code. No drag. No drop. Just name it, create it, and customize it with simple clicks in a sweet Control Center that gives you all the power to launch the independent social network you've always dreamed of.