Honeycommb vs Patreon
Honeycommb is a powerful, independent, community-first alternative to Patreon with far more to offer your audience and to earn from.
Thinking about moving over to Honeycommb or doing research to understand which solution is best for you to earn from your audience?
Here's an overview we put together to outline the differences between Honeycommb and Patreon for creators and communities running membership subscription business.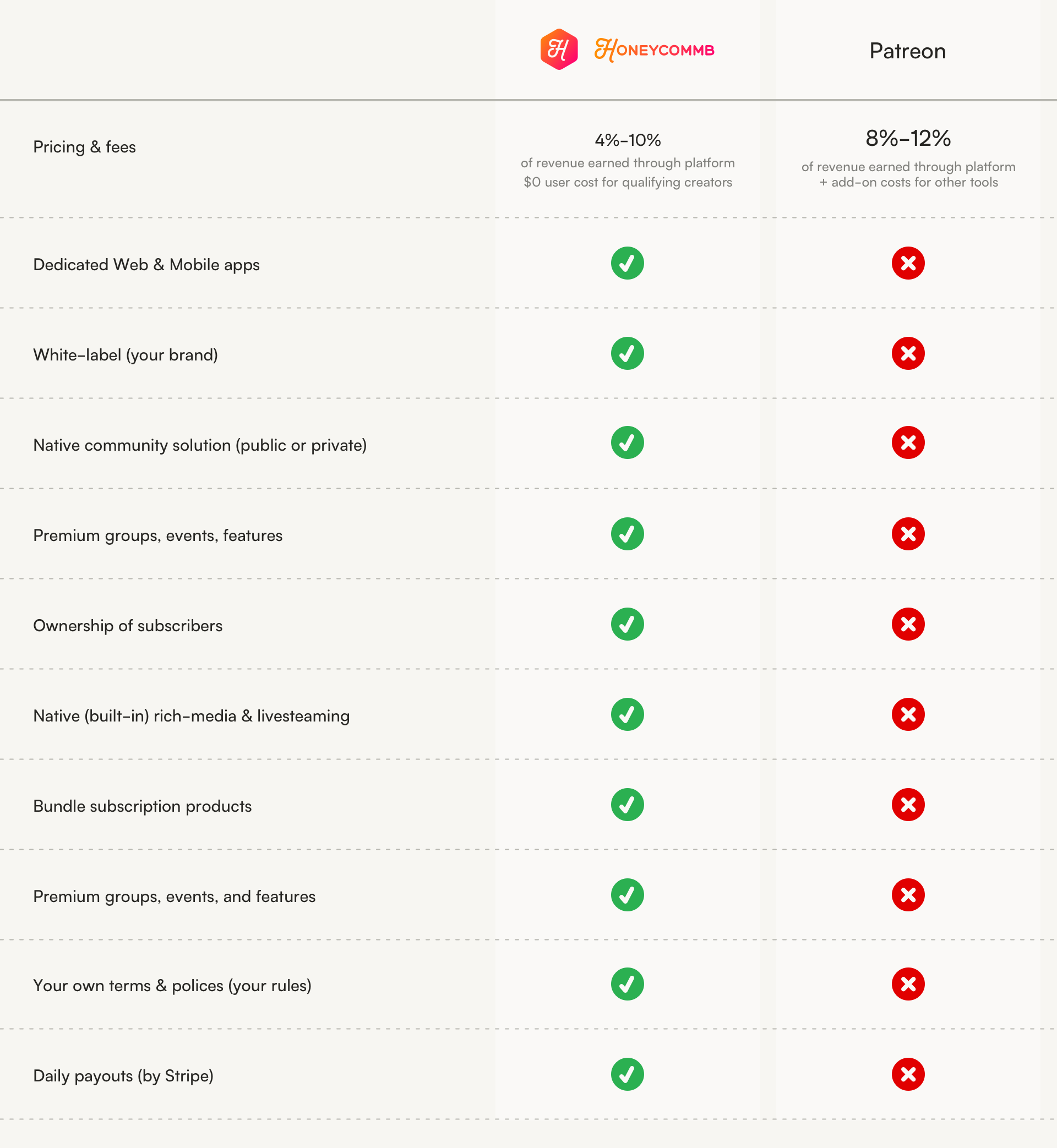 Dedicated, Branded, and All-In-One
With Patreon, you get a single web page to host your membership business, alongside every other creator on Patreon. Your page sits under their domain and you have little control over the experience your audience has with it. With Honeycommb, you get your own dedicated, branded *business assets*; beautiful, feature-rich Web and mobile apps. Your mobile apps sit in Apple and Google Play app stores, visited by tens of millions daily, pumping up your SEO and you as an established offering.
Patreon is a simple list of gated content, hosted on YouTube as unlisted videos, on a single web page under Patreon's domain and brand. Members consume your content in their feed mixed in with content from other creators. With Honeycommb, you get a dedicated, independent social network. All content, profiles, events, and interactions happen within your network and under your brand directly correlating the value you bring to you and your brand.
Patreon requires you to add on other software solutions to offer things like community, rich-media, livestreaming, and more. These solutions are costly and require your members to use other tools and create new logins, again under another brand and with more distractions. This creates a disparate and challenging experience for you and your members. Honeycommb is an all-in-one, "turn-the-key", independent social network platform that comes with all of these things built-in. All you have to do is add your branding and make simple customizations to offer something really special to your audience.
Membership Subscriptions: More to Offer
If you want to offer a simple way to give your audience or fans the ability to support your creative work, Patreon might work for you. You get one way to generate revenue, through one package of subscription tiers. Your patrons only get value when you create content and they have no guarantees of delivery (they've learned many creators on Patreon often don't deliver). With Honeycommb, members get constant value by being a member of a dedicated, focused community. They can create and consume content from other members, join groups, chat, attend events, and more. Offer membership subscriptions that unlock more than just content but premium groups, events, and features, all under one roof and your control.
Total Ownership & Control
With Patreon, you and your members must adhere to *their* terms & conditions and community guidelines. Getting your account suspended and even kicked off of Patreon is not unheard of. You have no control to remove a Patreon member for any reason. You don't own the data or content that's created on the Patreon platform. Your Patrons are Patreon's members, not yours. Ownership and control go hand-in-hand. Without ownership there is no real control and with Honeycommb you have total ownership and control - even over the terms and guidelines *your* community must adhere to (you can write your own). From brand to data to members and content, it's all yours. Because Honeycommb offers you a full suite of applications and features, there's so much more to customize, control, and offer your members.
Create Your Network
If you want to organize and engage a group of people of any kind, Honeycommb is a fit. No code. No drag. No drop. Just name it, create it, and customize it with simple clicks in a sweet Control Center that gives you all the power to launch the independent social network you've always dreamed of.