Posting & Livestreaming Paywall 🏞️ 🎥 🤑
September 21, 2023 - Make posting and livestreaming a subscription benefit in your community subscription products.
For networks leveraging the Paid Subscriptions feature-set, you can now make content creation and / or livestreaming a community subscription product benefit.
This means that when configured, in order for your members to post and / or go live they will have to be subscribed to a community subscription product that gives them that benefit. If not, members will get a paywall that informs them they must upgrade their subscription in order to access that feature.
Now live, this update brings changes to every Honeycommb application; Control Center, Web app, iOS and Android mobile applications.
Default Behavior
When your network is created, the Paid Subscription feature is NOT on by default. This is because not every network is looking to generate revenue. To add the Paid Subscription feature-set, click the "Upgrade & Addons" button in the right hand navigation of your Control Center and add "Paid Subscriptions". See our Help Center for how to configure Paid Subscriptions.
Content Creation (posting) and livestreaming is ON by default, capabilities all members have access to until you configure otherwise.
Paid Subscriptions: Off by default. Explore "Upgade & Addons" to activate
Content Creation: On for members by default
Livestreaming: On for members by default (mobile apps only)
Control Center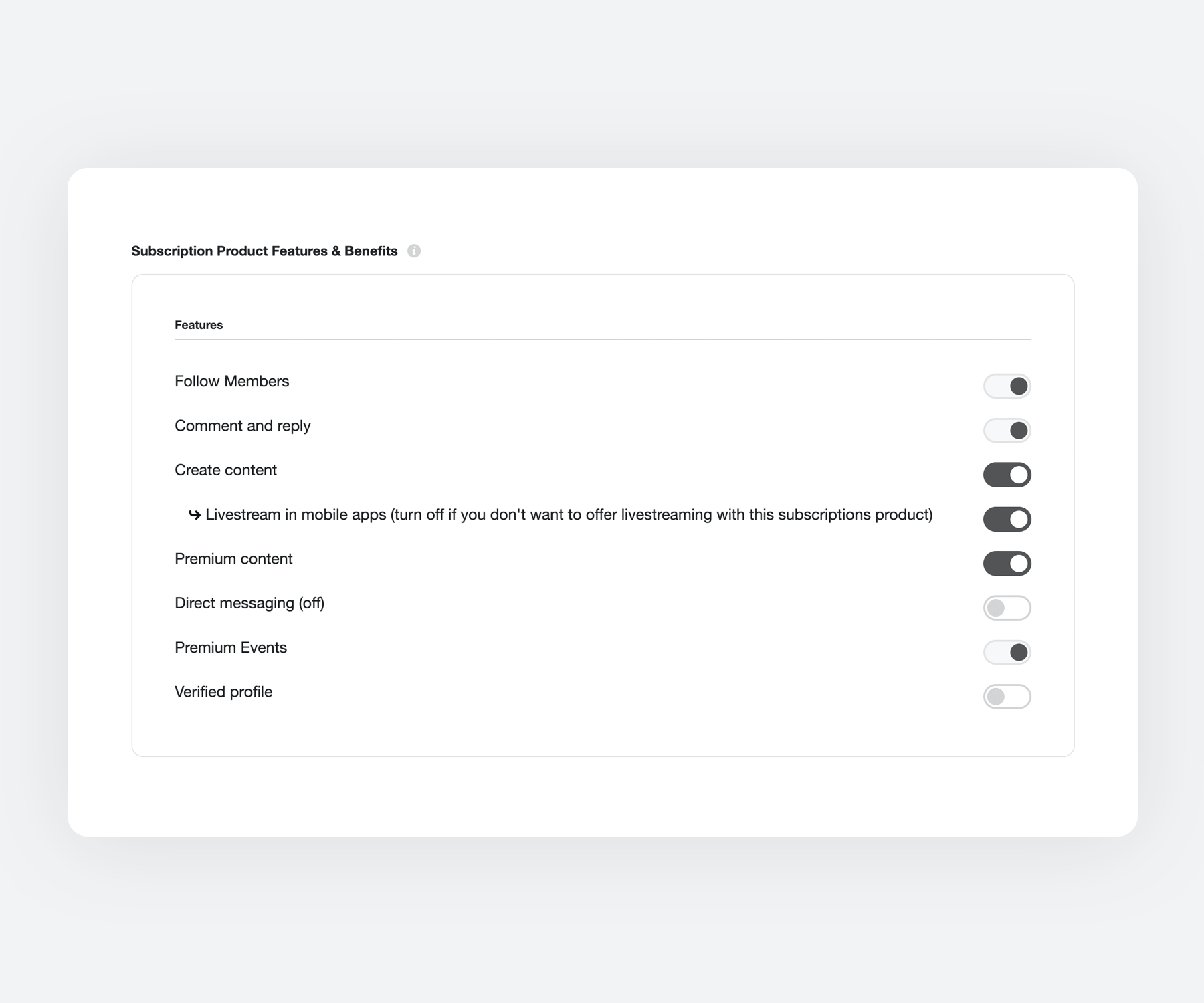 When making a community subscription product, in the "Subscription Product Features & Benefits" area, you will now see "Create Content" as a benefit you can toggle on/off. When toggled on, you will see "Livestream…" as a sub-benefit that you can toggle on/off, as livestreaming is a child benefit of content creation.
Note that turning on Content Creation or Livestreaming benefits for a community subscription product means that you will be turning this feature off for all members who are not subscribed to the product.
Member Applications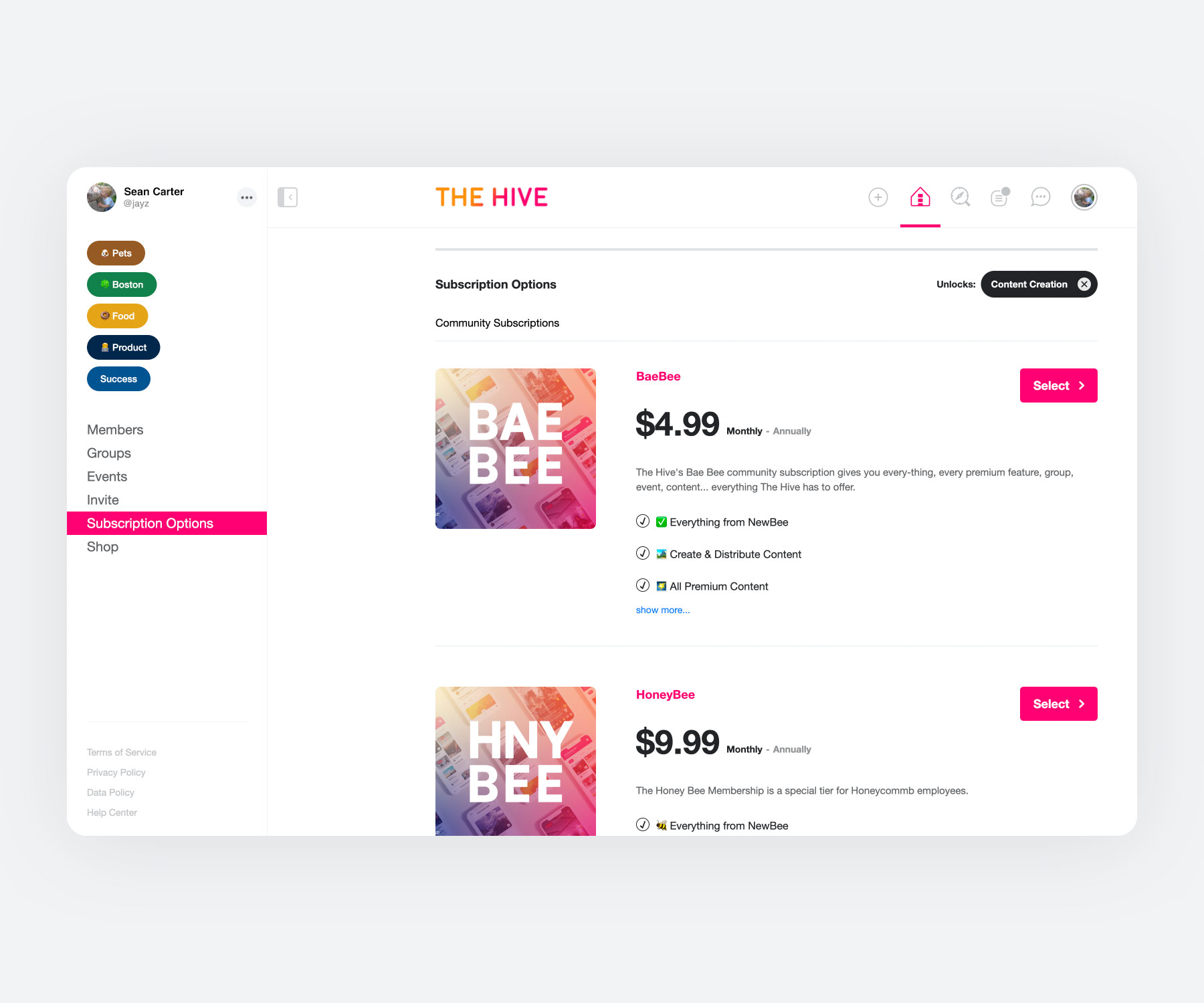 When a member tries to access either feature, post creation and/or livestreaming, the member applications will check to see if the member is subscribed to a community subscription product that gives them access to content creation and/or livestreaming. If they do, they will experience the product as normal. If they do not, the member will be presented with a paywall and access to a list of community product subscriptions that give them access to the feature.
This project was the result of feedback from our customers that wished to leverage content creation and livestreaming as a paid affordance for their network in order to provide further incentive for their members to pay for membership subscriptions. For many network owners, generating revenue simply means that providing a safe, managed, valuable online social network for their members is viable which aligns perfectly with Honeycommb's mission to provide a platform for healthy, meaningful online communities to exist and thrive. If you have any feedback or suggestions, please feel free to reach out to success@honeycommb.com
Sincerely,
Honeycommb Product Team
Create Your Network
Leverage premium features, like posting and livestreaming, as paywalls to generate revenue through paid subscriptions is only one of many reasons to create your independant social network with Honeycommb.